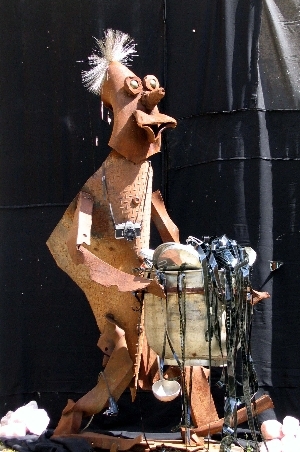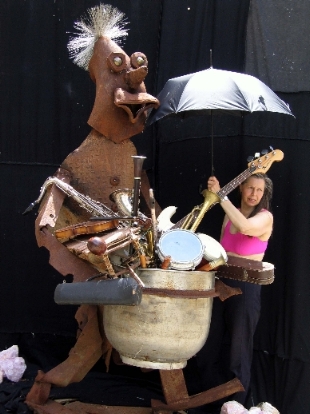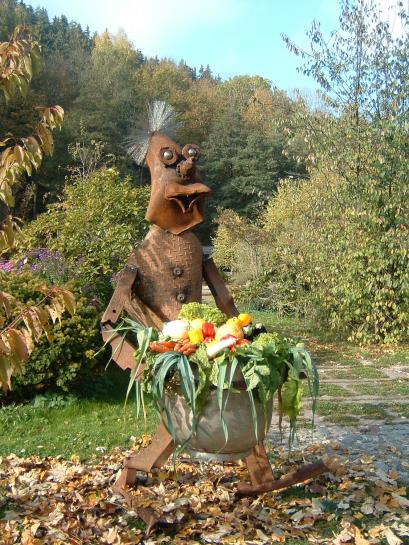 As
a glad film director.
As musicmanager 
and also as kitchen chef
Don't you have a broken camera and an old stand?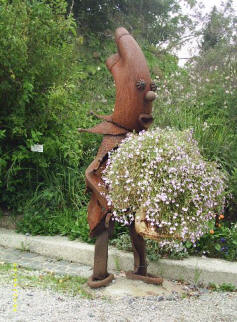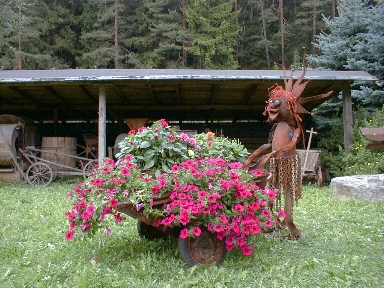 the sculptures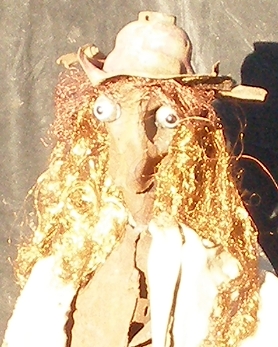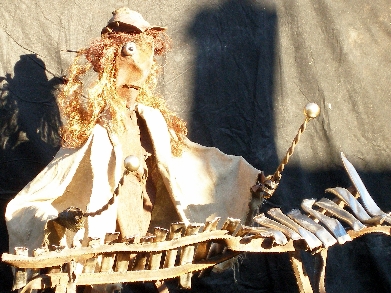 200 cm is the size of the xylophone player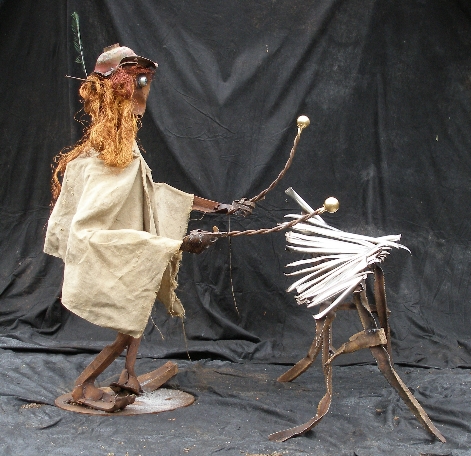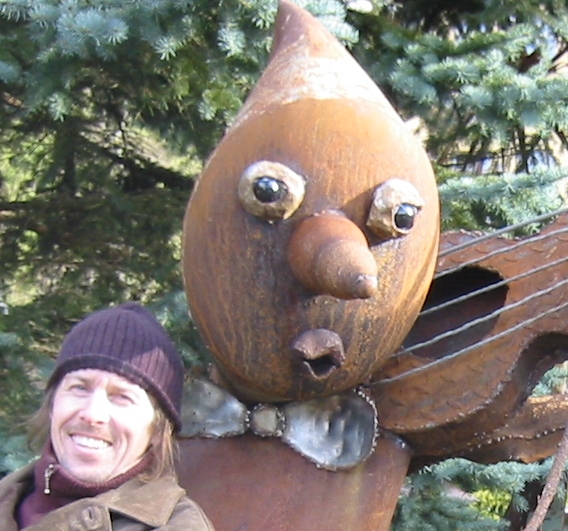 200 cm is the size of the xylophone player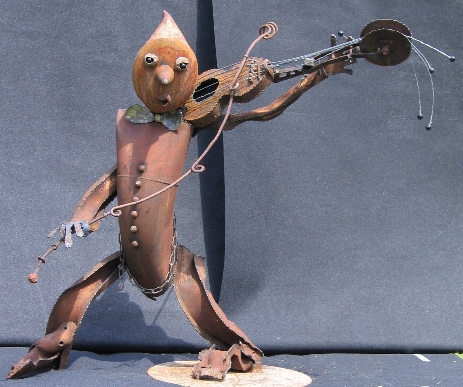 200 cm is the size of the xylophone player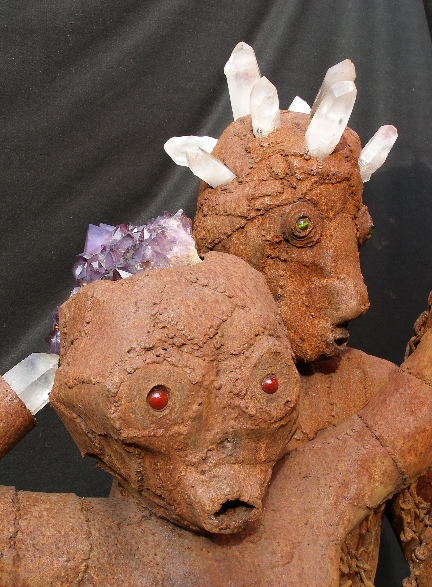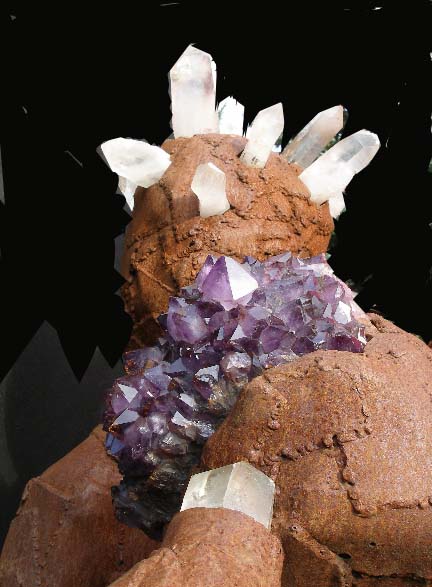 Size 175 cm, also with a tall dog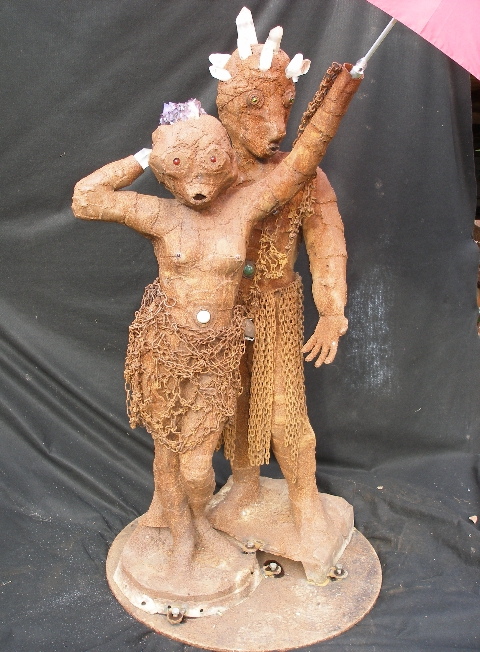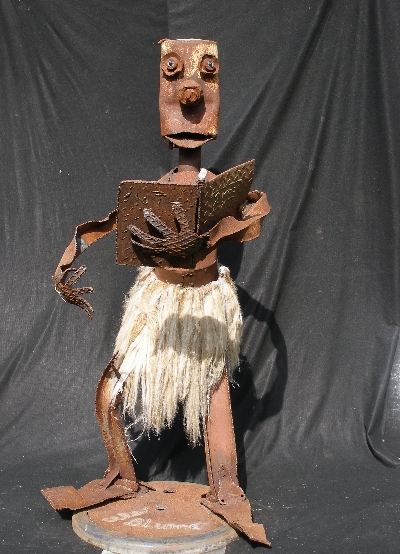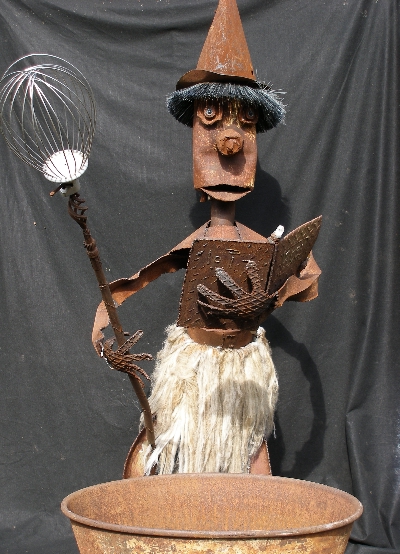 Another changeable sculpture:
One time a Storyteller another time a magical baker with dish and egg-whip.
He likes to be at children's' birthday parties.
Size with his hat 240 cm
A witch at Walpurgis night, a baker at a baker's festival …
A going to be president
We are looking for the one, who is filled with love and who dances on streets.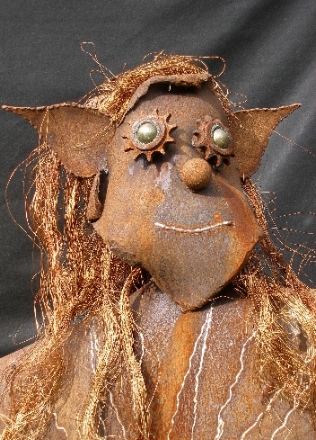 This sculpture, a Japanese drummer, stands as an item on loan in front of the philharmonic orchestra of Jena. Its size including foundation is 360 cm.


THE PAVILION

TEMPLE OF LOVE OR A MIDSUMMER NIGHT'S DREAM

In the VIP- area for artists to relax, weddings, birthdays, funerals inside and outside.

Silent - Contakt - Space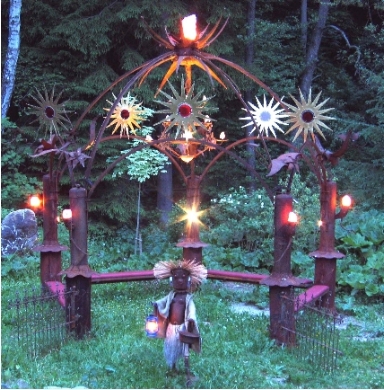 and we start laughing when we realize, that we always have been at home …

my recommendation

A room to rest and to snuggle for artists, but also for Children, Moms and Dads.

The glowing pavilion hovers in the middle of a room.

There are comfortable sofas round the pavilion and inside there are many, many huge colored pillows.
 
Of course nobody should smoke in this temple. A small lovely Crew, that's ourselves, serves drinks and takes care about the guests.

 


A good friend of mine in our community can tell the fortune and she gives advices about life situations.

We often go on tour with her crystal ball. She has got a nice stand decorated with beautiful velvet and silk, so people enjoy comin





… we all are on the way and nobody expect such little meeting, but this is a tiny happiness.




This is how the overall picture could look like!

 

1
The pavilion in the centre of a room has a size up to 100 square metres.
There are different lights at the pavilion and so it's save to come and to leave the pavilion.

2
Dependent of the consistence you can just leave the walls or paint them or even decorate them with non inflammable fabrics. Also good big pictures can be put at the wall. 

3
You might put a soft warm carpet on the floor, use sofas and big colored pillows. It is also possible to use small tables, a juice bar or a Dolby surround hi-fi system.

4
Jewels are something lovely for everybody, which you can also take at home. For example rose quartz or rock crystals.

5
We would be four people and so we are the caring crew.




PAVILION DESCRIPTION


The pavilion is sticked and screwed together. You can find rose quartz, that glow inside on every pillar. All pillars have an extra spot, so that you might light the chandelier, which is decorated with 12 crystals and 12 amethysts and is made of three pieces.

Looking up you can see one big pink quartz, which is protected by countless long leaves and weighs about 30 kilogram.

This stone also glows inside.

There is red Plexiglas in gold suns, so you can see red spots on the floor that walk when the sun is moving during the day. On top of the pillars balance long legged feather-head-fun-birds.

To protect electricity there are fuse plugs.


I wish you anything good, health and have fun with following information about:

About me and my work


My name is Mandir Karamol. I've been working with sculptures since 20 years, but I've been an artist ever since. I'm living in a community for artists.

My sculptures are made of single particles of crap. Sometimes it takes years to get a sculpture made of many pieces.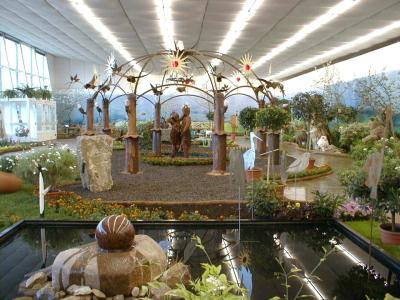 During work making a Galabau gardener), ordered by umbrella organisation Galabau.

:-)

If you like to have more information or an estimation of costs, please feel free to contact me:

mandir@schrottfiguren.de

Of course I'm happy to get ideas from you and your nice team.

    Dear folks, dear film producers       
                 
I provide my workings, facilities and crap storages for ALL KIND of shootings, including myself. Because of many shootings I already got some experience.

The attached photos are identical with the photos in the letter, except two of them.

Contact and information you'll find at the end of this letter.




Mandirs Schrottfiguren, Zschachenmühle 07368 Remptendorf

mobile   0173-394-3808            landline  036652-28028


         
Sale, special design, rental and arrangement of relaxing zone

forecourt, entrances of companies, gardens and parks

sculptures and pavilions





inside and outside

all kind of events

please recommend my work

Yours sincerely

Mandir Karamol


BE OUR GUEST

 

www.zschachenmuehle.de      www.schrottfiguren.de  



With us you can attend different workshops and enjoy wondrous holidays with your children. In our shop and museum there is a special choice of jewels and minerals. We also invite you to visit our paradise like park, where you can see guinea fowls and peacocks. Nearby you will find a small river called Sormitz, where you can perfectly relax.


      www.schrottfiguren.de